Where do ideas come from?
Honestly, I don't know. They usually hit me in the face like a banana cream pie, when I least expect it. Mmm. Pie.
Here's how 'Happy Box' came about. In mid-August of 2011, Alisa and I got an invitation to participate in Gothtober 2011, the annual Halloween themed art festival hosted by our friends JP Parr and Cristin Pescosolido. After I learned that the theme for this year's Gothtober was 'chain restaurant', the idea for Happy Box popped into my head and I scribbled it down immediately. My belief is that if you don't eat that pie right away, somebody else will.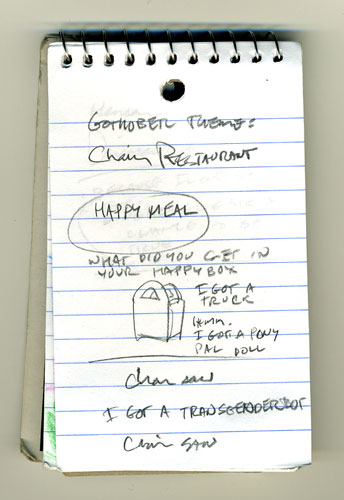 Here's the note I scribbled in my notepad. When you get a brainstorm, don't think, just write. At the time, I wasn't sure why I wrote the word 'chainsaw' twice in this note but eventually it turned out to be important, didn't it?
You'll notice that the note is not the complete idea for the short. In fact, it's just fragments, bits and pieces of thought. That's perfectly okay. It's only important to record the initial inspiration. The details of the project can be worked out later. It
Let me say it again: write your ideas down as soon as you get them or they will vanish forever…or until some other guy gets his own ideas for a short about two cats and a kid with a chainsaw. Then, you'll be sorry.