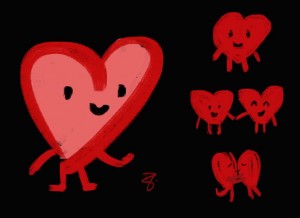 When I delivered the animatic (a version of the storyboard with sound and music,) Keith was concerned that the 'heart people' looked too adorable.
I said I could make them both cute and grotesque, with veins and dangling arteries.
Keith gave the idea a thumbs up.
Here's a timelapse painting of a 'heart person' being drawn. This drawing was only meant to be concept art but it wound up being used in the final animation.