'Happy Box' the Storyboard – page 5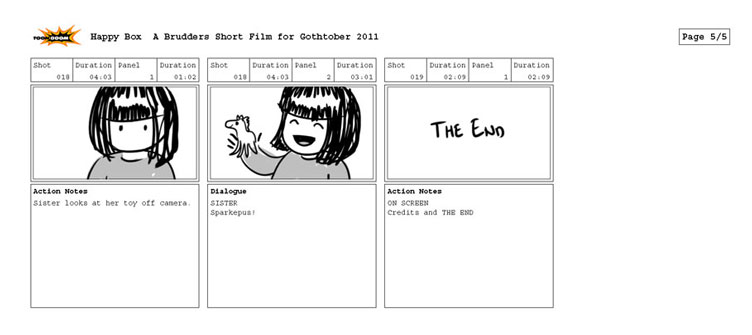 In case you were wondering what program I'm using to draw my storyboards, it's ToonBoom Storyboard Pro. I used the standard version for a few years but I recently switched to the 'pro' version. The main strength with either version is the organizational tools. For example, Storyboard allows you to easily add and subtract panels, and it can accurately keep track of the scene numbers and other vital information. This frees the artist to focus on the creative part of storyboarding.
The Pro version adds the ability to output the storyboard as an animatic for your video editor. I still wound up cutting my animatic in my video editing program Vegas Pro but having the output from Storyboard Pro as a template helped speed up the process.
You really don't need an expensive program to create a storyboard though. Before I got Toon Boom Storyboard, I just drew on regular copy paper with pre-printed boxes, and before that, it was index cards that I stuck on a wall. Sometimes, I still doodle short sequences in a notebook if I'm in a big hurry.